Plague Doctor (Retired)
AAX085
Regular price

$55.00 USD

Sale price

$55.00 USD

Unit price

per
Persisting despite our best efforts we are still fragile beings. What was will be. What is was. Who is behind the mask? OHM's PLAGUE DOCTOR is a medical physician who treated victims of the bubonic plague from the 14th-19th centuries. When plague struck a town, these physicians were hired by the city to treat everyone -- both rich and poor alike -- however, there wasn't much they could do to cure their patients.
A beaked mask filled with aromatic items is worn to protect from the putrid air and further infection. The mask is fitted with glass eye openings and stuffed with rose petals, mint, juniper berries, camphor, cloves, myrrh, and other spices. The doctor's garments consisted of a light, waxed fabric carefully sealed against the disease, and often carried a cane to examine patients without making direct contact. Plague doctors practiced bloodletting and other remedies such as leeches or frogs on the patient's body. Possibly a chopped snake and onions as a salve was needed. Most doctors believed that the pandemics were caused by "bad air" or due to the alignment of the planets.
That beak-like mask may be creepy; but we think our OHM Plague Doctor bead is rather adorable in their own eerie way. So we invite you to add the good doctor to your OHM Steampunk collection and feel extra thankful for your own good health and the skin you're in. Since those terrible and scary days, a long time ago, in a town far far away, they say things are better now.
Share
Terms & Conditions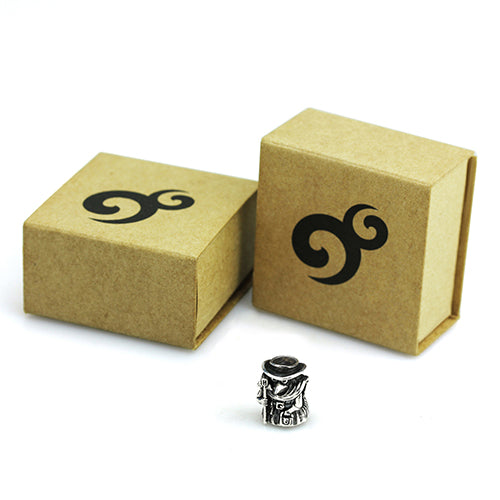 Terms and conditions
Orders placed on ohmbeads.com are shipping from the USA.
If you are ordering from outside the USA your package may be subject to your country's import fees.
OHM is not responsible for any duty/import/taxes/customs/etc charges you may incur. 
Shipments refused delivery by the recipient due to customs will be subject upon return to a 10% restocking fee and applicable shipping charges.
To learn more click here: OHM Shipping Policies