Has Your Beadmail Arrived Yet?
OHM Original Beadmail is a monthly subscription program. Get ready for an unbeatable experience that will make every bead lover's heart race with excitement!
Receive a new limited edition bead straight to your mailbox!
Start Anticipating
Embrace Chaos

Feel Love

Celebrate Seasons
Includes FREE Worldwide Shipping
& FREE OHM ONE Membership!
OHM Beadmail program will bring your excitement of bead collecting to the next level. It will give you the peace of mind of knowing your bead budget and hassle-free shopping experience.
Regular price

$65.00 USD

Sale price

$65.00 USD

Unit price

per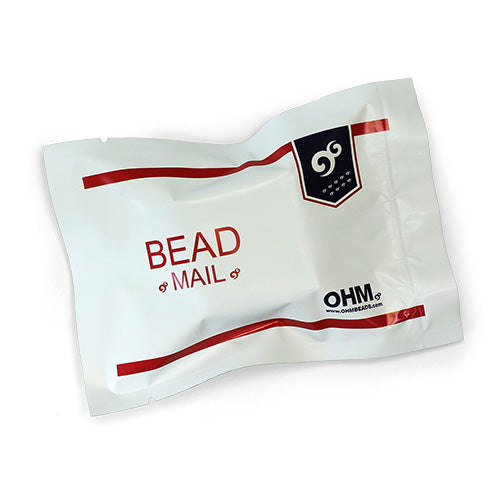 Choose your path
Ready to join our Beadmail community? 
We offer multiple types of Beadmail,
Original Beadmail - New concepts from OHM. Sterling silver beads for the most part, but sometimes we may surprise you with something unique.
GOTM (Glass Of The Month) - New handmade glass beads with sterling silver cores. Shapes vary.
OROQ (Rock of the Quarter) - Rocks, natural or artificial stone, with sterling silver cores. [Quarterly subscriptions open January, April, July, and October.]
$65

Monthly subscription

Recurring charge

$85

Quarterly subscription

Recurring charge [Jan/Apr/Jul/Oct]

Pre-Pay

Prepaid subscriptions

Recurring charge
OHM BEADMAIL PROGRAM
Don't take our word for it. Hear what our subscribers say
"A wonderful bead, the quality of the stone, the cut, the shine, make it unique!"
"Beautiful glass charm, I really enjoy the ethereal glow of it!"
"Great new addition .Great for a space bracelet, very elegant !!!"

"Ohm did an awesome job with this rocket! Great details, perfect size! Lovely addition to my space charms! Thank you ohm!"
"OROQ No.5 is a thriller in material and shape. This gorgeous Ruby Zoisite in a sweet 5-petal flower shape is magnificent. The Be Together stone represents harmony, self discovery, meditation, and individuality. Love how different this one is and my bead has a great mix of colour."
"I was so surprised (in a good way) when I opened up this OROQ beadmail. The cut of the stone is amazing and the one I got is such a beautiful ruby zoisite!! I love OROQ and I feel like it keeps getting better!"
"I really love the bead"
"This one came in different colors and I got a very beautiful blue one. I'm happy with it!"
"This bead is just stunning. I am so glad I was able to find this bead as an extra that was available outside the Beadmail subscription. Thank you!"
"I wasn't sure when I first saw the red hearts if I liked them or not. When I tried them with some other beads, I began to appreciate them. I really like them now!"

"Not usually a fan of Rose Quartz, but the cut and quality of this bead is really amazing"

"Everything shipped fast and the packaging was beautiful!"
"I love my charm! And shipping was very fast! I will definitely be back to purchase more of the beautiful beads!"
"It's a great program for those who loves the experience to being surprised."
"The aptly name Brumal Fantasy, GOTM No.15, is the perfect bead for November. Breathtaking is the adjective that comes to mind as I look at my mesmerizing, crystal clear, triangular shaped glass bead. Every angle offers an exquisite view of beautiful, wintry colours peppered with silver sparkle. A stunning bead I will use often. Delighted!"
"Beadmail No.20 was a thrill to open! I love really detailed silver beads and this Time Sleigh has so much to admire. It has a steampunk feel, full of pipes, bolts, & other design elements. As someone who desperately hopes to find a vintage Sugar Sleigh bead, this one makes me very happy. Perfect for holiday bracelets or time traveler stylings."

"Love the colors of this glass! It pairs well with so many of my ohm glass!"
"Great program. I enjoy the new bead each month."
"I like the concept of OHM rock of the quarter. I must admit I saw much more beautiful ones in social media. Mine has not so much contrast and color in the stone. But that's the game of blind bags. I like it anyway."

"5 stars +++++ One of the MOST beautiful glass beads in my collection! Just the dreamiest design; mesmerizing in every way! Phenomenal colour and complexity. Love!"


"My favorite beadmail yet! This is a creative and fun design! She's perfect for fall! The details on this kitty are phenomenal! I've been wearing her constantly!"
"Love the creativity of this design."
"Love Beadmail 16. It 's the perfect bead for my travel bracelet and represents a recent family trip."
"Fantastic design for the hot summer. Swirls of light blue and white make me think of clouds, and waves with whitecaps. The ideal glass for hot weather stylings or stacks of blue. A great glass to receive from a fun blind bag subscription. Delighted!"
"I couldn't wait to get my first OROQ and was extra excited to know it would be a Tiger's Eye stone. At first I thought mine was a little dark but then...when I moved into the light, Carol Ann, oh...my...goodness!!! I think I got the best one ever!!! This is a spectacular stone, beautiful facets, and magnificent colouring! I am thrilled!!! The variation in the golden brown stone is incredible and dreamy! Fantastic!"
"I love all the Glass of the month beads, of course some of them more than others 😉 this one is really nice even if it's not a 100 percent bead for me. But that's the joy of surprise beads!"
"Lindo. Maravilhoso. Perfeito."
"I adore this GOTM! Such delicious colours swirled together like a Pucci dress. Donut shape is fun. I was really happy when I opened the box! Well done!"
"I have enjoyed the first year as an OG Beadmail Early Adopter. It has been full of wonderful surprises and lots of fun. I am looking forward to what the next year brings!"
"I love getting a surprise beadmail each month. Plus, sharing in the surprise and anticipation of the reveal with other beadmail subscribers is half the fun. Some of the designs have absolutely blown me away and I would have been heartbroken to miss out on them."
"It's a cool concept! I do love that so much thought is put into making the beads. I love the backstories and learning."
"It is fun receiving a special surprise in the mail each month! As an adult, it is hard to have that little kid at Christmas feeling and this program gives me that feeling."
OHM TAROT CARDS (Monthly Subscription)
11 Shipments
Regular price

$111.00 USD

Regular price

Sale price

$111.00 USD

Unit price

per
Free Shipping. Monthly Subscription.
View full details